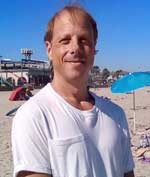 San Diego, 2017
I'm Jonah Winters, graduate of Ontario College of Health and Technology and Vancouver School of Bodywork and Massage. I'm not yet formally certified in Structural Integration, but a simplified version called MIPA. See my various qualifications.
Originally from San Francisco, I grew up near the mountains in Oregon, have lived many places across Canada and the States, and settled in the Niagara region in 2010. I've been practicing bodywork informally since about 1988, and professionally since 2007. See My story: how I came to Rolfing.
Structural Integration is not massage. But I am also trained in both relaxation massage, using the modalities of my "spa therapy" certification from Vancouver School of Bodywork and Massage, and therapeutic massage, using deep-tissue techniques plus standard RMT training from Ontario College of Health and Technology. Read more about my massage styles at wintersbodyworks.com. See also my official pages at RMT Find and the CMTO.
My past training includes a B.A. in Buddhist philosophy (1994), an M.A. in Islamic and Baha'i studies (1997), and a certificate in internet technologies (2003). My volunteer work includes serving on the RMTAO Publications Review Panel. See also my personal project Baha'i Library Online, where my theses and papers are online. See also my resume, cv, and qualifications, and see also my official pages at the RMTAO (RMT Find) and the CMTO.
I work at homes for seniors, massage at group athletic or cultural events around the city, offer in-house treatments, provide on-site chair massage for GoodLife Workplace Wellness, and am an RMT at McKincley-Molodynia Chiropractic. I am trained in compliance with the Ontario Disability Act.
I also run an independent web-hosting business, which predates my massage career by 10 years. I'm certified in "internet technologies" and sell customized web design and personalized web hosting; see WintersWebWorks.com.
Email jonahwinters@gmail.com or text 289-668-9728 to book an appointment.