---
What kind of bodywork do you do?
Besides a basic form of Structural Integration called "Myofascial Integration Posture Alignment" (MIPA), I also do spa and deep-tissue massage (see "Rolfing is not massage"). After about 12 years of practicing, and after learning about a dozen different modalities of manual therapy, I've honed my preferred style to what I can best describe as: Myofascial–style systemic lengthening of tension lines, in the context of a West Coast–style "flow." I use both direct and indirect myofascial release. It can feel intense but never hurts, and is relaxing to receive.
This website is dedicated to just my S.I.-style work. To read about my other styles including "spa relaxation" and the so-called "deep tissue," see wintersbodyworks.com; see also my section on evidence-based massage. I don't do actual Rolfing, but a simplified form of myofascial branded as MIPA; see How my work differs from "Rolfing".
---
What do I wear?
Structural integration is done with comfortable-but-minimal clothing, like underwear/bra/boxers or a swimsuit. It is important that I be able to make full contact with your back and hip bones, so sports bras shouldn't be too wide at the back, or a women's swimsuit should be 2-piece. You'll be draped for warmth and comfort, but will also be doing some movement and may be sitting on a stool for the last part of the session, at which time draping would not be practical.
---
Is Rolfing for children or the elderly?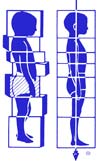 Structural Integration can be ideal for bodies both young and old. The child can often benefit from early intervention if there's been injury or developmental abnormality; in fact, the Rolfing logo depicts the posture of a young boy before and after his 10-session series (see image at right). And even a developing body without injury gets the usual growing pains, especially in legs and thorax. For sessions with children I request that a parent be present.
For those who've had enjoyed a longer life, Rolfing can be especially effective. The longer we're exposed to the field of gravity and the more decades we've been working and walking, the more distortions can creep into our posture. Plus, our body and its tissues can become stiff with age. I've had the good fortune to help people go from pained-and-bent to light-and-joyful (ask me in person for some great stories!).
---
My story: how I came to Rolfing
From my earliest memories, my dad would give me a back rub to help me fall asleep at night. When I became focused on martial arts as a teenager I would sometimes massage the ankles of my team-mates after a sprain, or rub away a muscle strain. By my late teens, after many years of back-rubs and some years of martial arts, I noticed I seemed to have a natural healing interest and a detached comfort with bodies — few things are more body-interactive than Judo, grappling on the mat!
In 2007, while I was still working as a web-designer and computer consultant in Vancouver, I took a part-time year-long course in "spa therapy." My goal was merely to improve a skill to share with friends and family, especially as my own children were growing up enough to become more active and develop their own muscle aches and occasional sprains. But it never occurred to me that this could be a profession.
After completing that course I was hooked, as I realized that bodywork reflected one of my earliest talents. With a background in university and research, the always-curious scientific part of mind wanted to better understand the field, so I took every continuing-education course I could: I had to explore the indigenous massage traditions of all cultures, and compare all contemporary forms of bodywork. But it still never crossed my mind that this could be a career; it was merely another intellectual pursuit, albeit one that was also emotionally fulfilling.
Near the end of this exploratory phase, I kept hearing about something with the awful-sounding name of rolfing. It was founded by a scientist, so it had to be worth looking into! I went for one Rolfing session.
My life changed.
I left that session with three thoughts. As I walked out the door feeling taller and lighter-on-my-feet than I had in my entire adult life, I thought "Wow, I never knew the world looked like this from up here!" I was floating, both in body and spirit. My second was, "I have to change careers and be a massage therapist!" My third was, "And this is the kind of massage I want to do!"
But I also realized something else. Every other technique and style I'd learned up to that point seemed pretty straightforward. I knew I was no expert, having only been in training for one year, but everything so far had felt simple. But this — this felt infinite, deep, mysterious. I knew instinctively that I would not be ready to learn this for a very long time.
And a long time it was! I spent a decade practicing and training in different styles of bodywork, reading every book and watching every video on Rolfing and Structural Integration and playing with the techniques as best I could, before I finally felt ready to get certified. I learned a simplified form of the 10-session series from Craig Mollins in 2016 and began practicing his "MIPA" in earnest.
By mid-2017, after devoting a couple years to hands-on practice of this style of bodywork, I was ready to go pro. I created this new website and "hung out my shingle," as Ida Rolf herself would say. Then I went to the source and studied with Dr. Edward Maupin, one of Rolf's very first students and the man who literally "wrote the book" on Structural Integration.
My journey has just begun!
---
Qualifications/resume: bodywork and academic training
Massage certificates/diplomas

2019

Myofascial Release for Neck, Voice, and Swallowing Disorders, with Walt Fritz

2017

Foundations in Myofascial Release, with Walt Fritz
Rolf Mentoring, with Ed Maupin
Soft Tissue Release, with Jim Bilotta
Feldenkrais movement therapy, with Fariya Doctor (classes & workshop)

2016

Myofascial Integration Posture Alignment (MIPA) Level 1, with Craig Mollins
MIPA Level 2 (a simplified version of the S.I. sessions 4-7)
MIPA Level 3 (sessions 8-10)

2015

Usui Reiki Level 2
Ontario Disability Act compliance training

2014

Introductory myofascial release, with Barry Jenings

2012

Two-year Massage Therapy diploma (OCHT)

2010

Deep Tissue Massage and Myofascial Release video/book course, with Art Riggs

2009

Advanced Joint Release, with Amaro Hogräfer
Myofascial and Deep Tissue intro

2008

One-year Spa Therapy diploma (VSBM)
Advanced Neck and Shoulder techniques, with Amaro Hogräfer
Intensive Lomi Lomi
Zen Shiatsu
Sports Massage
Hot Stone
Thai introductory training

2007

Reflexology
Aromatherapy
Swedish introductory

Academic credentials

M.A. Islamic Studies, University of Toronto, 1997
B.A. Indian Philosophy with a minor in Music, Reed College, 1994 (also attended Brock and McGill)
One-year Internet Technologies certificate, Bodwell Internet School, 2003
Volunteer member, RMTAO Publications Review Panel (2014-2017)

Business essentials

Member, 2013-present, College of Massage Therapists of Ontario
Member, 2010-present, Registered Massage Therapists Association of Ontario
Insured, 2013-present, via RMTAO/Trisura
Trained, 2014, in Accessible Customer Service for compliance with Ontarians with Disabilities Act
Member, 2008-2010, Preventative Health Services
Member, 2007-2008, Natural Health Practitioners of Canada
Licensed, "Therapeutic Touch Technique" mobile practitioner by the City of Vancouver, 2007-2010
CPR and Standard First Aid, Red Cross Level C, 2012-present